The U.S. economy lost a historic number of jobs in April, the clearest picture yet of the staggering consequences wrought by the pandemic.
The report released by the Bureau of Labor Statistics showed a record 20.5 million jobs lost over one month and an unemployment rate of 14.7%, the highest rate since the Great Depression.
All sectors experienced losses with the steepest drops occuring in leisure and hospitality, followed by education and health services. The unemployment rates rose sharply among all major worker groups, with larger increases for women than men and for Black and Hispanic workers than white workers.
BLS also noted that the true unemployment rate is likely higher than reported. The sheer breadth of the economic damage is sure to last for years to come, even if the pandemic is brought to heel.
"These numbers are not just larger than in the past but many times larger," said Julia Pollak, labor economist at ZipRecruiter. "And any changes are just so much more rapid than anything we've seen in the past."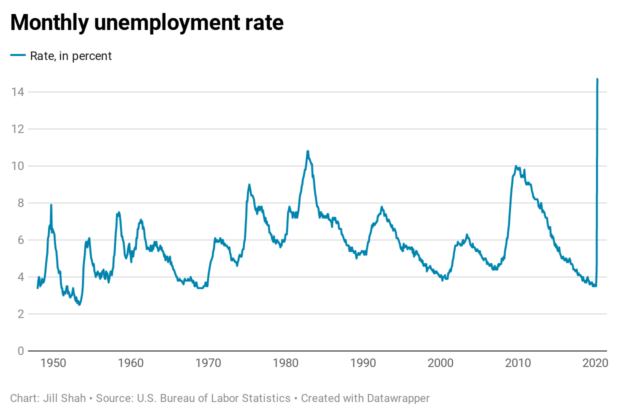 While the current unemployment rate stuns economists, it does not capture the full extent of the devastation. BLS conducts household surveys to calculate the rate, and the report calls special attention to those workers that are classified as employed but absent from work for "other reasons." If those workers are included in the unemployment rate, it would be five percentage points higher. The unemployment rate also does not capture people who are not actively looking for work or those forced into part-time work, both of which are included in a different measure known as U6.
Still, 78.3 percent of the unemployed are classified as temporary layoffs, meaning they expect to be recalled to their jobs in the future. Whether those jobs will be there is up in the air, though.
In Minneapolis, Jenna Gross will learn whether she has lost her job as a media manager permanently on July 12th, twelve days before she is due to give birth.
When a calendar invite from her manager arrived at the beginning of April, Gross knew what was coming. She has been on furlough since then, when the mattress retail company Sleep Number announced that 40% of employees would be laid off for up to 90 days.
But Gross's company health benefits will run out after the first month on this coming Wednesday. She and her husband now face the complex web of choices for coverage: either enrolling her in his expensive plan, COBRA or a new plan if she lands a job.
"The biggest stressor has been not knowing whether or not I'll have a job and what our health coverage and our out-of-pocket maximum will be for the birth," she said.
So far, women have seen a larger share of job losses during the pandemic. Women represented 50% of employment in February, but represented 55.0% of job losses over the last two months.
"If three months ago, we were talking about gender inequality in the workforce, this recession did not help that," said Ahu Yildirmaz, co-head of ADP Research Institute.
Black and Hispanic workers also saw a greater share of losses than white workers. The rate was 16.7 percent for Black workers and 18.9 percent for Hispanic workers as compared to 14.2 percent for white workers. The rates for Hispanic workers and white workers represent record highs for those groups.
Businesses around the country are facing uncertain prospects even if they are allowed to reopen as states consider loosening restrictions.
Appointment cancellations came one after the other in the days leading up to the shutdown for Alpana Patel's franchise location of Blo Blow Dry Bar, a hair salon that specializes in blowouts and other cosmetic services.
Patel, who is also a real estate agent, had just opened the business in San Diego, California in January and now faces the prospect of slow demand for the rest of the year. All the memberships that she had cultivated for the business so far have been canceled, forcing her to start over. And social distancing guidelines may mean that less people are allowed in the salon, leaving half of Patel's chairs sitting empty.
"If I'm only going to operate at three chairs per hour, how do you actually expect me to pay the same rent?" she said. "That's where the problem is going to become worse."
Job losses are expected to continue as cities across the country face outbreaks and businesses remain closed. The coming years will require sustained effort and job growth to reverse the effects on businesses and workers alike.
"It will take years to dig out of the hole that we find ourselves in," said Joe Brusuelas, chief economist at RSM US. "It's going to be a long road out of the pandemic."
Gross is taking her situation day by day. Although she has moments of sadness and stress, she knows that she is one of millions of people in the country experiencing economic hardship right now.
"I have found a strange sense of comfort in knowing I'm not the only one and knowing that it isn't my fault."