April Rice had always dreamed of becoming a homeowner. Recently promoted to analyst at a brokerage firm, Rice, 33, decided to start the process in November 2019. She contacted a mortgage broker, without a doubt that her $60,000 annual salary and 713 credit score would qualify her for a mortgage. But the broker denied her, telling Rice to come back when she raised her credit score a few points.
"For him to treat me as if I needed to have this perfect credit score, I totally got discouraged," Rice said. "And I had to question, is this for me?"
Rice is Black and the mortgage broker was white. She suspected that a credit score in the 700s could still qualify her for a mortgage.
"Not even looking at the fact that I just simply qualify," said Rice, who lives in Rock Hill, S.C. "It's just kind of like he really didn't want to entertain me at all."
Homeownership is the best way to build wealth in this country, but Black Americans have the lowest rate of homeownership. According to the Urban Institute's Housing Finance Policy Center, the Black and white homeownership gap has increased since 1960. The gap between Black and white homeowners was 27 points in 1960, but it increased to 30 points in 2017. Last year, the annual homeownership rate for Black Americans was 45.4% in comparison to 75% for white Americans. Access to credit is a major factor in that gap.
After the housing bubble burst, the abundance of foreclosed homes made banks and mortgage brokers introduce stricter credit standards to determine who qualifies for a mortgage.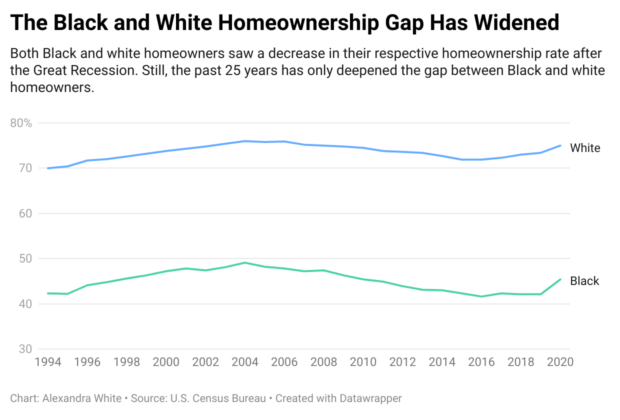 According to a study released by the National Association of Realtors, most people are denied a mortgage because they have too much debt in comparison to their income, but the second reason was a low credit score.
Black families are less likely than other groups to have a high credit score. In 2019 the Urban Institute reported that only 20.6% of Black households had a credit score above 700, compared to more than 50% of white households. Black Americans are less likely to have high incomes or to have a family member who can rescue them when they encounter financial trouble.
As a result, Black homebuyers are more likely than other groups to be denied mortgages. Their denial rate in 2019-2020 was 12.64% — 6.49% higher than the overall rate of 6.15%, according to a LendingTree report.
But low credit scores alone don't explain the homeownership gap. Tendayi Kapfidze, an economist at LendingTree, said discrimination is a major obstacle for Black homebuyers.
"Black people do have lower credit scores, but a lot of that is the culmination of centuries of discrimination," said Kapfidze. "Often, Black borrowers get worse outcomes even with comparable credit scores. This happens more often when you're doing loans in person and happens less when loans are online, and you can't see the person."
After Rice raised her credit score seven points to 720, she began working with a Black mortgage broker, who got her an FHA 30-year-mortgage at 3.25% in July when she closed on her first home. Now, Rice is shocked that she was first denied a mortgage because of her credit score. "You would think you would hear that when it was a debt to income issue," said Rice. "It kind of made me feel like to him I wasn't worthy, as if I needed an 800 score."
An 800 credit score may not solve the Black and white homeownership gap. Antoine Thompson, executive director of the National Association of Real Estate Brokers, an African American organization, said that discrimination plays a big role in the ability for Black Americans to become homeowners. "Every month, we get these reports of discrimination in lending," said Thompson. "So, that also contributes to distrust."
Whether or not discrimination was a factor in Rice's case, credit requirements have become much more stringent, especially during the pandemic. Joel Kahn, associate vice president of economic and industry forecasting at the Mortgage Bankers Association, said that mortgage denial to someone with a 700s credit score isn't unusual in the pandemic. "From a credit standpoint, there's a lot of risk out there," said Kahn. "A huge chunk of the workforce is still out of a job."
Even though the pandemic has led to low interest rates, credit has tightened. Banks have become much more cautious about who they lend money to because of high unemployment and precarious employment.
Credit requirements will likely remain stringent because of the high demand for homes during the pandemic. "Right now, the banks are being overwhelmed with mortgage applications," said Stan Shipley, chief economist at Evercore, an investment banking company. "When those applications start to slow, then they may broaden or ease their standards a little bit. But that's not today."
Rice said she is grateful that she found a Black mortgage broker who did not deny her ability to apply for a mortgage. "Even my lender told me, you have to be careful because we're treated differently being Black than white," said Rice.